Information services are the means by which organisations exchange information, or make their information available, in line with their business objectives.

Service consumers interact efficiently with service providers via service interfaces.

The service interface is one of the three components identified by ICAO, together with the service overview and the information service payload.

To allow a service consumer to make efficient use of a service, the service description must cover the needs of business, operational and technical experts.

Services aligned to the business

Information services allow organisations to align their interactions with other organisations in accordance with their business goals and activities.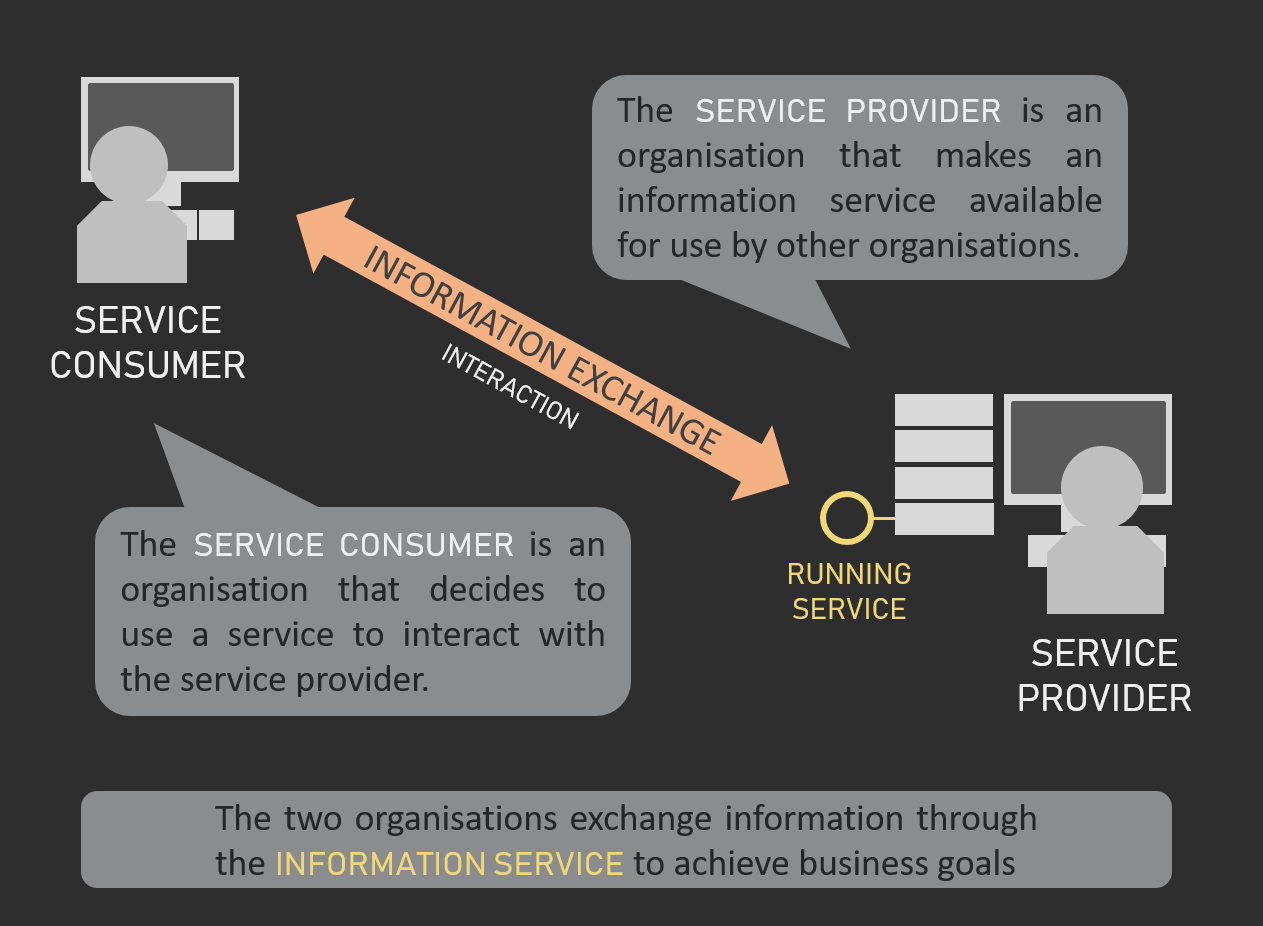 The service description includes the business-level characteristics of the information service functions, assisting business and operational experts with a business view of the interactions, without their having to look at the interface details.

Information service interfaces

Information service interfaces are the means by which the underlying capabilities of a service are accessed.

The description of the interfaces makes clear how an information service works.

The interfaces consist of operations and messages within a defined functional scope, which allow for efficient information exchange.

Information service payload

An information service payload is the assembly of information exchanged using an information service.

Information services are designed to be the means by which the ATM community disseminates and accesses ATM information.

Service overview

A service overview is a set of information service metadata intended to promote service discovery and an initial evaluation of the information service characteristics.

Service overviews provide SWIM service registries with a consistent approach to the description of the information service.

Service description

A service description is the information needed in order to use, or consider using, a service.

In Europe, the EUROCONTROL Specification for SWIM Service Description and its associated supporting material set-out requirements and guidance on the minimum set of elements to be contained by a service description in order for a service consumer to discover a service, consider using a service, or become a service-consuming client. The requirements ensure that a service description covers the information needs of business experts, operational experts and technical experts, more particularly in terms of: what a service does, how a service works, how a service is accessed, and other information for consuming a service.

Related subjects

An information service:
exchanges information via the service payload;

runs on the technical infrastructure;

follows SWIM

principles

;

is developed in accordance with the

service orientation

;

is globally described using a

service overview

;

is fully described for service consumers in a

service description

;

is discovered using registries;

is made available by a

service provider

;

is used by

service consumers

to interact with other organisations.